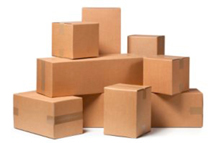 Used Boxes
These cartons are in excellent condition, clean and often as good as new. They have been used only one time, for transport of goods from producer to customer. We carefully sort them in our warehouse and any soiled or damaged boxes are removed.
New Boxes
These are new cartons comprised of unused, rejected or obsolete items, end-runs, excess stock, etc.
Printed or Plain
About two thirds of our stock (new & used) are printed boxes meaning they have a company name, logo, etc. printed on the carton. The rest are plain boxes with a product or shipping label, a symbol or small lettering (what we call almost plain) or they are completely plain with no markings whatsoever.
"At first we used recycled boxes to fill small orders, but in the current economy it only makes sense to get the 50-75% cost savings on all our corrugated box needs. We haven't looked back since."
"Seeing as most of our product line is quite expensive, we have had problems with security surrounding transportation of our goods. After being introduced to the benefits of used, recycled boxes, we have noticed a cost savings of 45% and a dramatic decrease in missing product security issues, because the boxes we now use do not say what is really in them."
" Since most of out products are imported from outside Canada, in today's business climate we needed to reduce expenses throughout our company. By making the switch to recycled used boxes we have not only saved $65,000 a year on corrugated, but we've also saved the trees and the environment. "